A favourite among adrenaline lovers, Cardiff International White Water (CIWW) is the ideal venue for spending time with family and friends, but it's also perfect for corporate activities, from business meetings and events, to team rewards and celebrations.
One of the most popular team building activities is White Water Rafting, which puts communication, leadership and teamwork skills to the test, as six colleagues per raft work together to combat the currents. When the weather outside is off-putting, Indoor Wave will fit the bill – its double lane design enables team members to show off their bodyboarding skills side by side. Alternatively, if it's variety that you're after, the centre offers Multi Activity Packages with Improvised Raft Building, Kayaking and Bell Boating all on the agenda. 

After the action on the water, your team can take a breather in one of the wet classrooms, where they'll have access to classic conference room facilities without having to get out of their wetsuits.
With a plethora of unique, fun ideas for a staff day out or a way to mark company milestones, CIWW offers individually tailored itineraries suited to the needs of your business. Cardiff Blues, the BBC, Channel 4 and HSBC are just a few organisations that have taken advantage of the team building experience that the centre provides.
The benefits of taking your team out of their daily environment and routine include:
Improved communication: Overcoming challenges in a relaxed environment is an effective way of breaking down barriers between different departments, by giving employees who don't usually interact the chance to work as a team. This improved rapport can be transferred to the workplace – if employees are able to collaborate with each other efficiently, the overall productivity of the business will increase.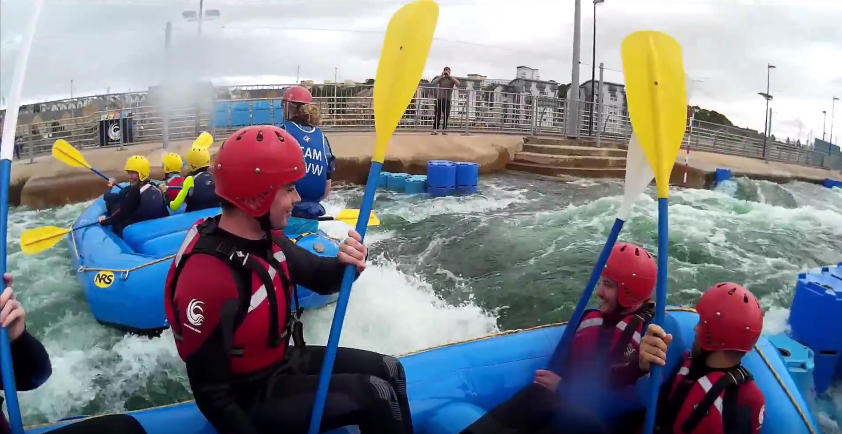 [Dyson staff rafting on 10 cumecs at CIWW]
Allocation of team roles: Dynamic team building activities also give staff the opportunity to establish their ideal roles. By identifying the key skills they possess and how they complement those of their colleagues, employees can focus on fulfilling their potential within the company.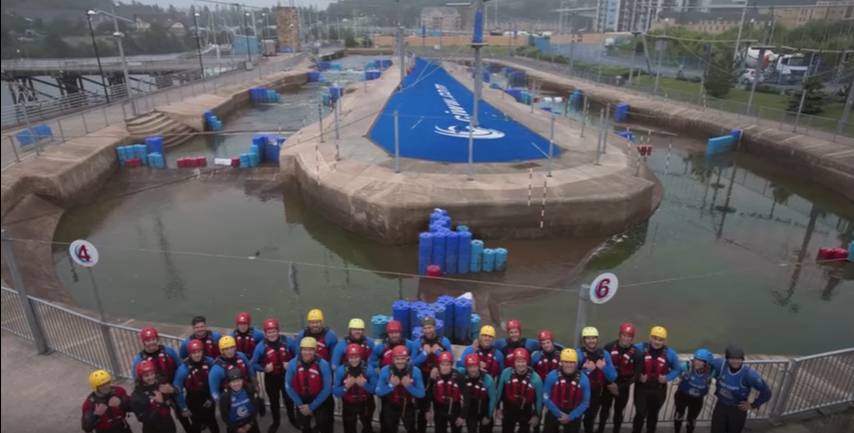 [The Cardiff Blues team at CIWW]
Boosting motivation: Achieving success as part of a team helps staff feel confident and therefore motivated in the workplace. Furthermore, investing in corporate activities demonstrates to employees that their company is keen to invest in its workforce and makes them feel valued.
Pinpointing strengths and weaknesses: Team building activities provide an opportunity to highlight tasks that different members of staff excel at or struggle with. For example, who's better at carrying out practical, technical duties and who enjoys tackling creative challenges? These observations can be used to increase productivity in the workplace.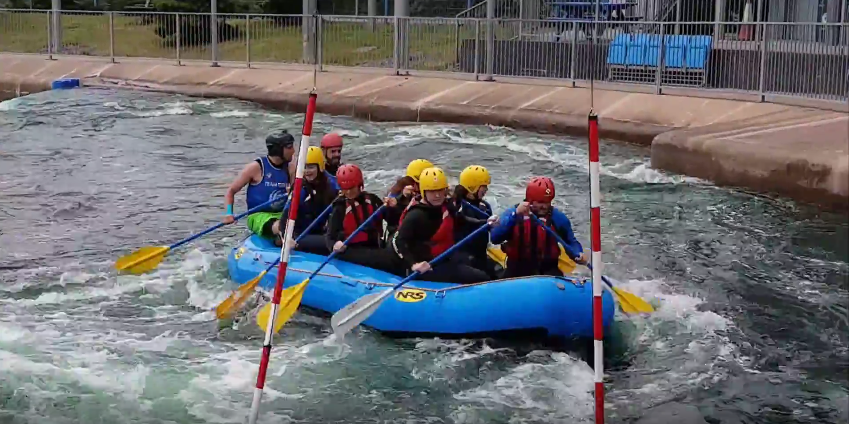 [Capital FM employees hit the rapids at CIWW]
Whether you're organising the annual office away day, a company anniversary or a reward to motivate staff, you can contact us using the enquiry from or speak directly to a member of our team:
Tel: 029 2082 9970
Email: info@ciww.com
For information about hiring our venue or individual rooms for meetings or events, visit our Venue section.